The Educational Arm of The Oxford Club
We have several FREE e-letters that could help you out.
Just take this short survey to see which one is best for you.
What Type of Investor Are You? – Take This 1-Min Survey to Find Out
By Teddy Stavetski
Feb 2, 2022 at 3:13PM
It's no secret that the Federal Reserve has rapidly changed its sentiment recently. In a matter of months, it turned from dovish to hawkish. This has caused some of 2021's biggest winners to suddenly become the biggest losers. Over the past few weeks, tons of growth stocks have spiraled down from their all-time highs. However, this hasn't been the case for every industry. In fact, some of the market's fastest-moving stocks are trending upward, not downward.
Trying to ride the momentum of the overall market can be tricky. Trying to ride the momentum of individual stocks is even trickier. This is because it's tough to tell when momentum is changing. For example, if a stock has surged 20% in a month does that mean it's overvalued? Or is it the start of a long bull run for the stock? Due to this uncertainty, it's best to always focus on the business, not the stock price. In the short-term, stock prices can fluctuate for all types of reasons. However, over the long run, the stock price will follow the business. If the business is consistently making more money then the stock price will surely rise.
With that said, let's take a look at which stocks are starting 2022 with a bang. Here are four of 2022's fastest-moving stocks.
NOTE: I'm not a financial advisor and am just offering my own research and commentary. Please do your own due diligence before making any investment decisions.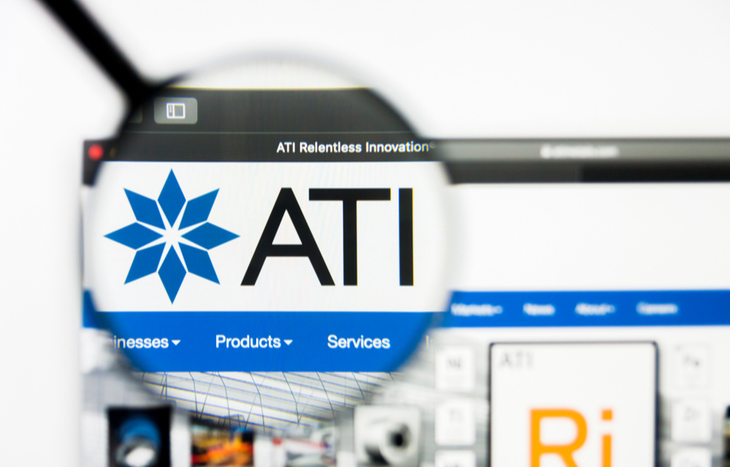 Allegheny Technologies has started 2022 up nearly 40%. If you're not familiar, Allegheny is a specialty metals company. Its products are mainly used for aerospace and defense. In particular, about 50% of its sales come from commercial jet engines. There are a few reasons why Allegheny has been one of fastest-moving stocks of 2022.
It seems like a lot of the good news has already been factored into Allegheny's stock price. However, this stock has still not even returned its pre-pandemic levels. Allegheny was one of the biggest losers during the pandemic. This is because the bulk of its revenue comes from planes. During the pandemic, orders for new planes were slashed. While this was bad news at the time, forced Allegheny to cut costs. Now sales are returning and it is still operating with a leaner cost structure. This could help boost Allegheny's margins moving forward.
You might not have heard of Constellation Energy before. That's because it was recently spun-off from parent company Exelon Corporation in January. Since spinning off, Constellation Energy is up nearly 30%. Exelon is the nation's largest utility company. Post spinoff, Constellation will become the largest publicly-traded company in Baltimore. It will also be one of the nation's top 10 natural gas providers, making it a great stock to add to this list of fastest-moving stocks.
The main purpose for this separation was to "better unlock value in each enterprise." It's fairly common for larger companies to strategically spinoff smaller subsidiaries. Doing this allows the smaller enterprise to focus more on its own growth. A great example of this was PayPal and eBay. Paypal used to be fully owned by eBay. After being spun off, Paypal could prioritize its own goals. Today, it's worth considerably more than eBay.
Constellation Energy is also a good choice for those interested in ESG investing. Right now, Constellation is the nation's largest supplier of carbon-free energy. CEO Joseph Dominguez has stated, "The future health and prosperity of our nation is inextricably linked to our success in eliminating carbon pollution, and our entire focus will be on helping our customers and communities achieve that goal."
The company has stated that its growth will go hand-in-hand with a carbon-free future. In fact, it already generates approximately 10% of all U.S. renewable energy.
Keep reading for more information on the fastest-moving stocks.
Regardless of where you live in the country, gas prices are probably higher than normal. Where I live in California, they're hovering just below $5 per gallon. In our capitalist society, every dollar that we pay for something is another person's income. In this case, the price that we pay at the pump results in income for oil companies. This means that higher gas prices equal higher profits for these companies. This is why Exxon Mobil is up over 25% so far this year. However, a higher price at the pump doesn't always equate to a higher stock price. Here are four reasons why Exxon is one of 2022's fastest-moving stocks:
Despite all of the talk of renewable energy, the world still runs on oil. Exxon's monstrous earnings are evidence of this. Additionally, oil consumption is still experiencing a resurgence. Oil usage slumped during the pandemic. However, by this point, everyone who wants one can get a vaccine and booster shot. In 2022, people will most likely travel more than they did in 2021. This means more gas will be used for cars and planes. This, in turn, means more profit for companies like Exxon.
So far in 2022, Marathon Petroleum's stock has surged nearly 20%. It has achieved this success by following a very similar strategy to Exxon. This mainly means beating expectations and repurchasing shares.
For Q4 2021, Marathon Petroleum reported revenue of $35.61 billion and EPS of $1.30 per share. This crushed expectations of $25.79 billion and $0.56 per share. On top of this, Marathon Petroleum has completed 55% of a $10 billion share buy-back program. Just recently, it got the green light to repurchase another $5 billion in stock. All of this has helped to propel Marathon Petroleum's stock to its highest price since 2018.
I hope that you've enjoyed learning about a few of the fastest-moving stocks! As usual, please invest based on your own research and due diligence.
A University of Miami grad, Teddy studied marketing and finance while also playing four years on the football team. He's always had a passion for business and used his experience from a few personal projects to become one of the top-rated business writers on Fiverr.com. When he's not hammering words onto paper, you can find him hammering notes on the piano or traveling to some place random.
February 7, 2022
February 7, 2022
February 4, 2022
February 2, 2022
February 7, 2022
February 7, 2022
February 7, 2022
February 7, 2022